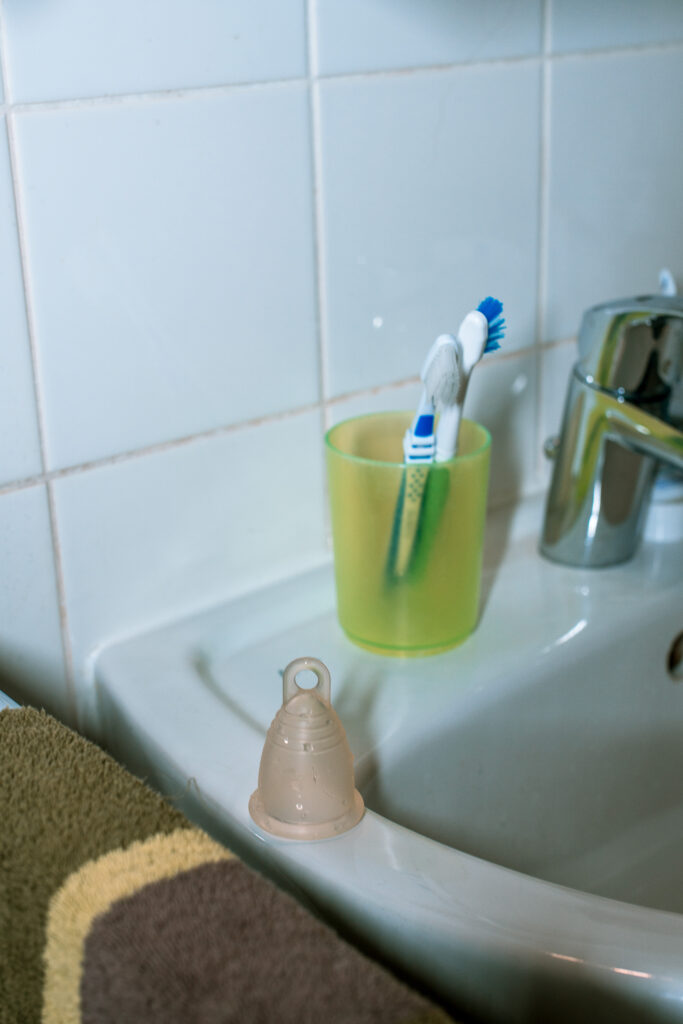 "Don't deal your tampons like expensive coke!"
Annika, 23
This interview is about Annika, menstruation and how the topic is taboo in society.
There is a lack of proper education and open communication both privately and publicly. The consequences are a lot of ignorance, unfounded shame, fear and ill-fitting tampons.

With this interview, Annika addresses all people and calls on them to talk more openly about the topic, not to be ashamed of their own periods and to include all genders in the education of the topic of menstruation.
Tell us something about yourself.
Hey, I'm Annika and I'm 23 years old. I've been living in Berlin for a year and work as a marketing manager for a sports event organiser. My working day is a mixture of a 9 to 5 office job and working on events, where I am out and about at various events in the summer. In my private life I enjoy being active in different sports as well as festivals and concerts. I am a hopeless optimist, often do 5 things at once, get involved in different areas and have a lot of fun in life.
When did your first period start?
Can you remember the situation? If so, please describe it.
I don't remember my very first period, but I remember thinking a lot about it because all the girls in my class had already told me that they had their periods. I was uncomfortable because I thought there was something wrong with me and that I was still a little child. Total nonsense. It's a completely normal age, but the pressure of "you're not a woman yet" was somehow really big. Especially because at that age you had your first crushes and boys were suddenly an issue, and you wanted to impress them, for whatever reason. (By bleeding from your uterus once a month, haha, really cool).
Have you been informed beforehand about what menstruation means and how you can prepare for it?
Well.
At the time, my mum had a conversation with me in the bathroom where she explained what was going on. It was a very uncomfortable situation for me at the time. We were both sitting on our 2 square metre bathroom floor and she basically explained to me that women eventually start bleeding once a month and how to use a sanitary pad. I just sat there quietly, didn't want to ask any questions and then went back to my room.
When my period started, I realised relatively quickly that sanitary pads were not the right menstrual product for me. I "taught" myself how to insert a tampon by reading the instructions that come with the above packages, because I didn't want to ask. The first time, however, it didn't seem to work properly and I walked around the whole day at school with an ill-fitting tampon. There are definitely more pleasant situations.
Do you think there is enough education about this issue?
Definitely not. In my school we learned how to put a condom over a wooden dildo, but everything about menstruation apparently didn't belong in school. Students didn't come to class because they didn't have period products and didn't dare ask about it. Or a friend of mine was laughed at because she had a blood stain on her trousers. It was (and in my opinion still is) a taboo subject that is tainted with a lot of shame. This can be changed by starting early with education and making it clear that it is a normal bodily function that is neither disgusting nor something to be ashamed of. Above all, ALL genders should be involved in order to develop an understanding for it.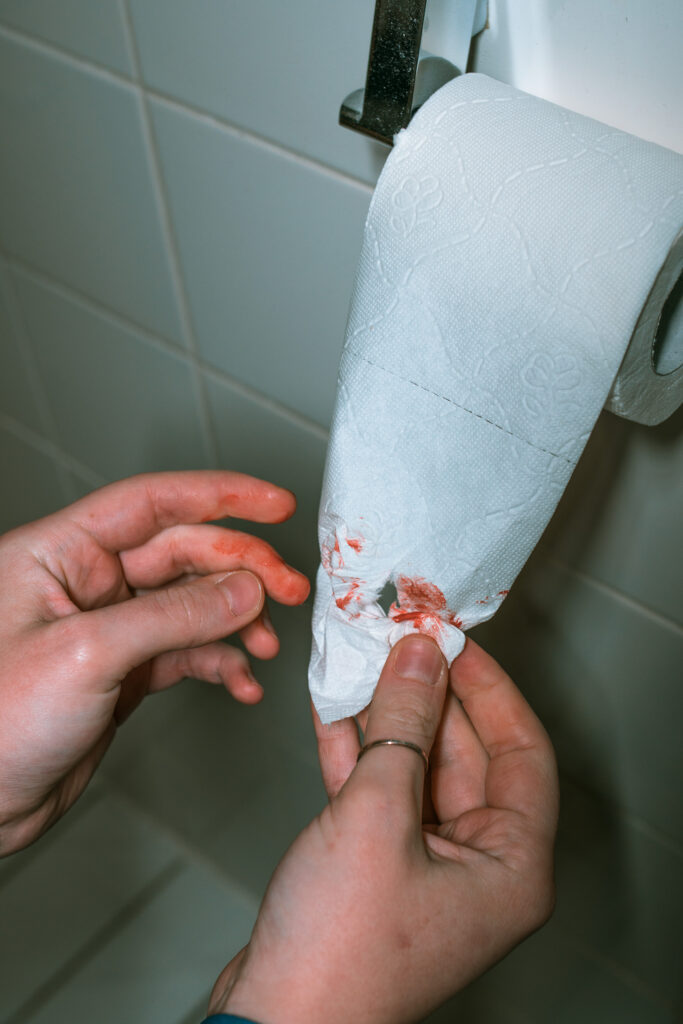 Do you think the topic is taboo in public?
Yes, unfortunately. You're practically taught not to communicate the topic too presently. You whisper to each other if you have a tampon and then hand it over as if you were handing over 3g of coke into the other person's palm. Why can't people ask for menstrual products the same way they ask for a tissue? From my experience, this is also true across generations. Although I now openly communicate the topic in my circle of friends and relationships in order to break this alleged taboo.
I also think it's good that the liquid used in advertising for period products is finally no longer blue, but red, in order to make the issue real and to raise awareness.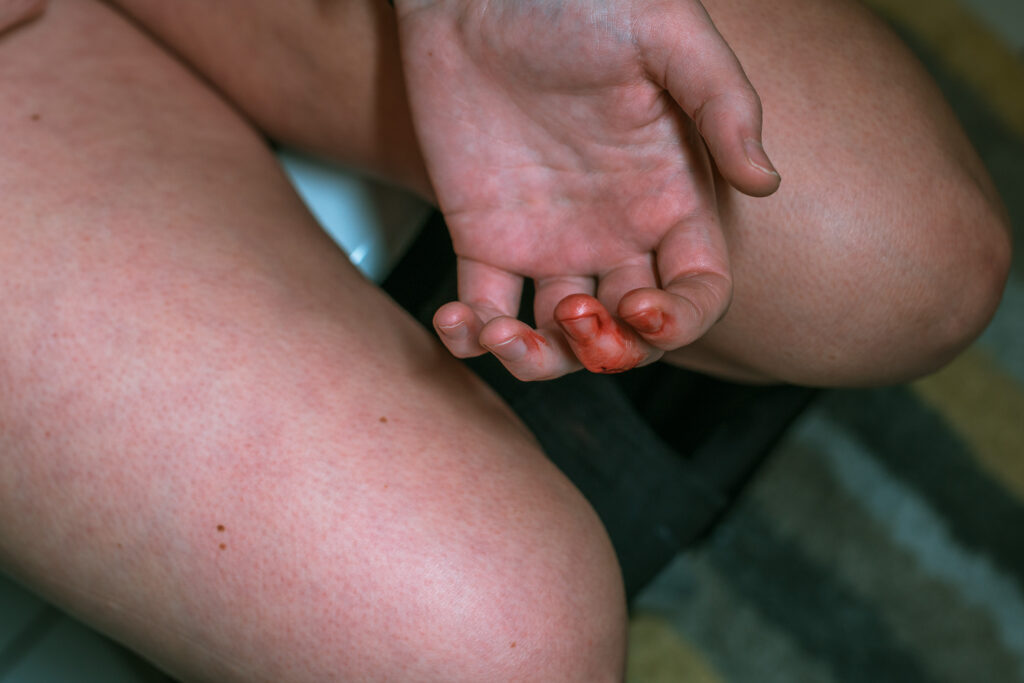 Have you already experienced unpleasant situations in connection with your period?
Yes, some. The most obvious one was definitely when I became more intimate with my ex-boyfriend for the first time. I was having my period at the time and had only recently discovered the menstrual cup for myself. I talked to him about that too, but I still felt like making out a bit. Now we were both just very hot for each other (newly in love and all), I was lying on top of him moving my hips very strongly over his lap. His hand slid down between my legs and he told me how wet I was and that he thought it was hot. Then, as I myself slid my hand between his legs and pulled it back up, I suddenly startled myself because my fingers were covered in blood. I stopped, looked down and noticed that his crotch was covered in blood. When he noticed it too, I felt totally ashamed and apologised a thousand times. The cup must have slipped, maybe I hadn't inserted it properly. At that moment I just thought: OK, that's it, now he must think I'm really disgusting and wants me to leave and not see me again. But to my surprise, he was super relaxed and calm, even laughed and said that we could go and have a shower together, which we did. 😀 I was still embarrassed but so relieved that he stayed so cool and didn't mind at all. I was then able to laugh as well and we still had a really nice day together. I would say that it even took away a lot of tension and I knew now that it should be the same.
What period products do you use during your period?
I have been using the menstrual cup for about 4 years. Before that, I used tampons, but then I decided to change for ecological/sustainable reasons, so that I wouldn't have to create any more waste during my period. Apart from the ecological aspect, I am also very happy with the way I wear it and don't want to change again. In addition, unlike tampons, the cup does not dry out the vagina, but still catches the blood inside.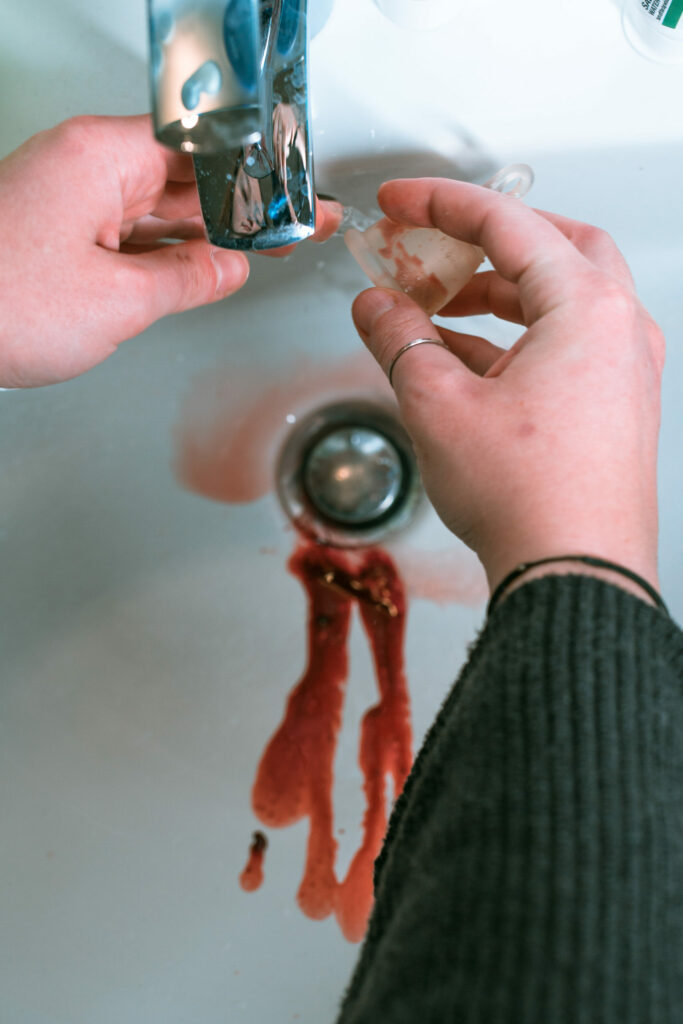 Do you use contraceptive methods that influence your cycle? If yes, which ones and can you describe the influence?
I am on the pill, which means I no longer have a natural cycle. When I take the 7-day pill break, I only have the "abortion bleed". But since I've been taking the pill for almost 10 years, I no longer have any memory of how my cycle actually works naturally. My periods are definitely very regular because I take the pill, but I also often have to deal with severe menstrual pain. I would be interested to know if these get better when I stop taking the pill.
Do you feel discriminated against (by the system) that, for example, period products are not free in Germany?
I myself am in a privileged position to be able to afford my period products. However, period poverty is a real problem that affects many menstruators. I think the development that there are free dispensers for period products in some public toilets is great and should be expanded much further. (I don't pay for toilet paper there either.) There is definitely more to be done!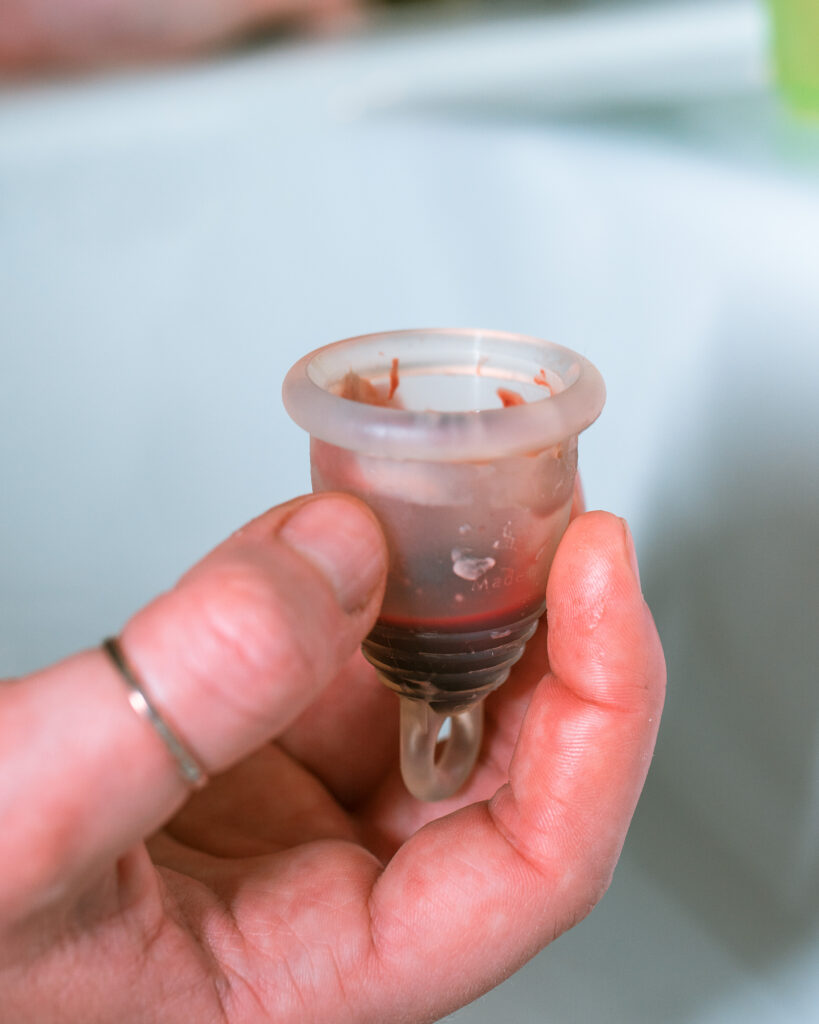 If you can think of any other things you would like to say, please feel free to share them.
Not all women menstruate and not all menstruators are women.
Please talk to your friends, colleagues, classmates, fellow students, teachers, families, etc. about the topic openly and honestly and tick your tampons like expensive coke when you discreetly put them in your hand. Find the best period product for you and above all, don't be ashamed of your menstruation!
Yes, pain during your period is normal, but if it's so bad that you can't stand it, get it checked out! Endometriosis is the cause of about one in two women with an unfulfilled desire to have children!